Spotlight on a Neuroscience Major: Aaron Silverstein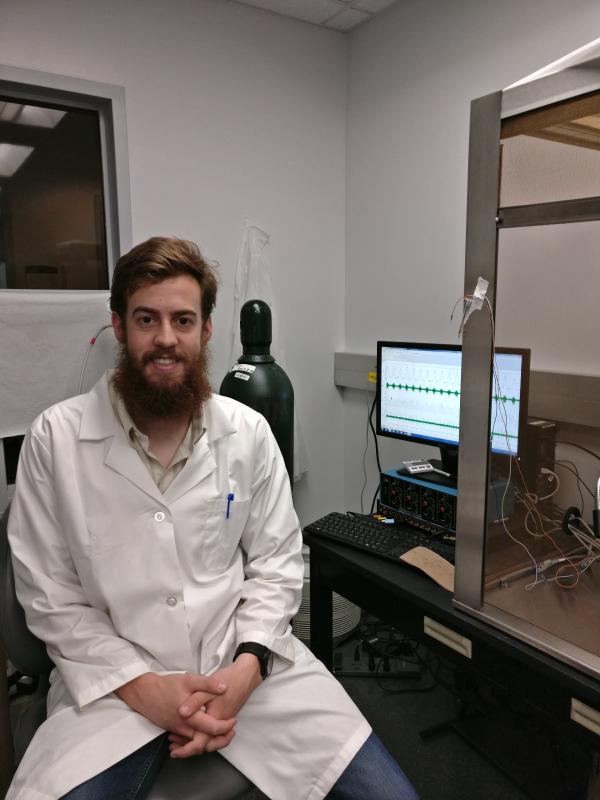 Aaron has conducted independent research since the Spring of 2017 under Dr. Warren Alilain of the Spinal Cord and Brain Injury Research Center at UK. The Alilain lab is focused on understanding the nature of traumatic spinal cord injuries at the cervical level which can cause diaphragm paralysis in human patients often resulting in breathing difficulties that greatly decrease their quality of life. Currently, Aaron is carrying out two experiments in rat models, designed to cause recovery of diaphragm function after the C2-level Hemisection model of spinal cord injury. Inspired by his psychology classes, Aaron uses operant conditioning to vary the duration of the low-oxygen periods of intermittent hypoxia treatment post-injury to induce greater neural plasticity within the spinal cord. In addition, Aaron has begun studying the effects of pharmacological application of the drug Gabapentin after injury, hoping to induce sprouting or functional regeneration through treatment.
Aaron is a Senior, hoping to earn a double major in Neuroscience and Psychology with a minor in Violin Performance. He hails from Paducah, KY, where he was homeschooled throughout his pre-college years and through his studies discovered a passion for the sciences underlying human behavior.
As of this past June, Aaron is happily married to Kelsey, previously his girlfriend of six years, and is in the process of applying for MD/PhD programs both at UK and across the country.